URL Rewriting Tool | You Can Rewrite URL
URL Rewriting Tool - Overview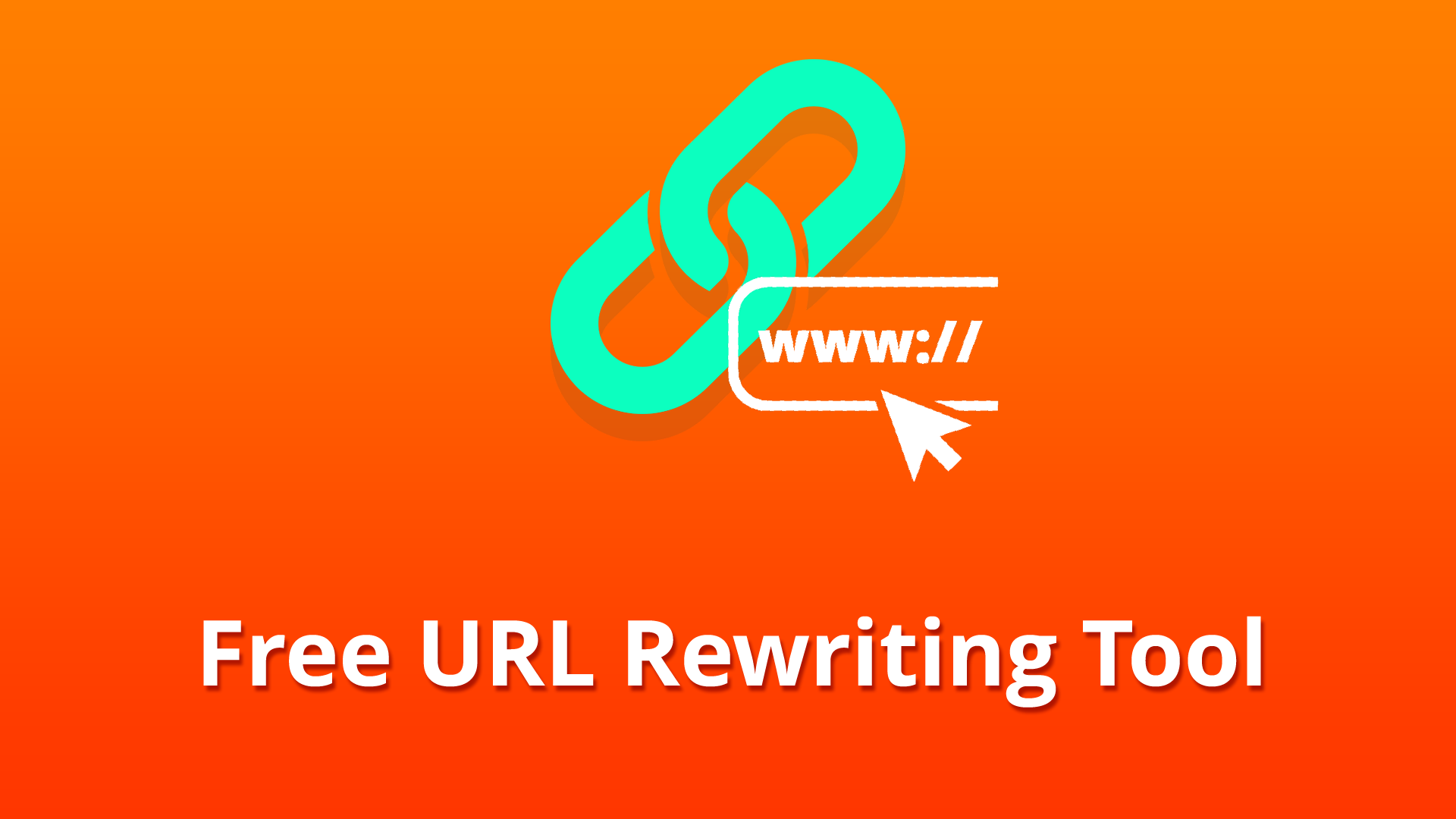 URL Rewriting Tool is a Free SEO Tool that allows you to Convert your dynamic URLs to static URLs to rank better in popular search engines like (Google, Yahoo, Ask, etc.,) and get the URLs to index faster.
LINK TO THE REWRITING TOOL
Would you like to convert a lengthy dynamic URL to a static URL? Utilize our URL rewriter! Simply enter the URL in the box below and click "Rewrite URL."
URL rewriting tool
Convert your lengthy dynamic URLs to static ones using our Super SEO Plus Tools!
This free URL rewriting tool will assist you in covering a lengthy dynamic URL with a shorter and static version. Typically, site owners, webmasters, and SEO specialists employ this method because static URLs are preferable to dynamic URLs because they are easier for end-users to remember and easier to bookmark when necessary. Static URLs can also aid in search engine optimization.
It takes a significant amount of time and effort to design a website and optimise it for search engines. Even seemingly insignificant criteria such as URLs are critical to a website's success since they can have a big impact on both website traffic and page ranks.
If you are still using lengthy dynamic URLs that are unattractive to site visitors, it is time to optimise your URLs by changing them to static URLs using that URL rewriting service.
Why would you want to utilise our URL Rewriting Tool?
This free online URL rewrite generator from Super SEO PlusTools is an extremely efficient tool that generates static URLs with a single click. Simply copy and paste the URL into the area provided and click "Submit." Our URL rewriter tool produces the result quickly and provides you with a short, static URL.
This URL rewriting tool was created to allow you to inspect and rewrite the URLs of your website. Bear in mind that static URLs are always preferable to dynamic URLs, as static URLs rank higher in search engines such as Google. Search engines index dynamic links more slowly than static links.
This URL rewriter tool is really simple to use and can produce results quickly. The software cannot be downloaded on your computer because it is an online application that you may access whenever you want, freeing up memory on your computer. Additionally, you do not need to pay anything to use this generator, as it is completely free.
Three acceptable reasons exist for URL rewriting. To begin, it aids with search engine optimization, as search engines like URLs with short query strings. Second, if you have pleasant static URLs, you are more likely to have a higher search engine ranking for your site, which helps attract more visitors because it appears to many internet users to be simpler. Thirdly, it speeds up the loading time of your web pages as compared to dynamic URLs. As a result, it has a more user-friendly interface.
Why are you in need of URL rewriting?
Static URLs are more intuitive and simple to memorise.
Dynamic URLs are more difficult to bookmark or index than statistical URLs.
Static URLs can assist in obtaining a high search engine rating.
This is accomplished by creating a file named ".htaccess" and inserting the generated code into it. Once the.htacess file is created, copy it to the directory of your website. This method of rewriting will function only if your website is hosted on an Apache server.
If your URLs are clean and clear, major search engines can tell the difference between folder names and keywords. Because it prevents the search engine from attempting to index your web pages while maintaining query string constraints. The majority of SEO practitioners claim that dynamic URLs do not appeal to search engine spiders, however static URLs do appeal to these crawlers and aid in achieving a high page grade score.
How do I rewrite our web address?

Simply enter the URL in the provided area to convert this lengthy dynamic URL to a shorter one, and then click the "Check" button. Our algorithm analyses your application and provides a static URL that is shorter and easier to remember.
For many website owners and webmasters, it is critical to utilise SEO tools such as this URL rewriting tool because they can significantly aid in growing and reaching a global audience. This URL rewriting tool can increase your website's online visibility, allowing visitors from all around the world to view and interact with your website.
If you own an e-commerce website, more individuals will most likely find your web pages using search engines, resulting in increased traffic and potential conversions.
Our rewrite tool is based on the Apache mod-rewrite module and is used to convert dynamic URLs and user-friendly static URLs to search engine friendly URLs. Simply paste your dynamic URL into the field and our programme will convert it to a static one in a couple of seconds.
Sites that are static and dynamic

On the internet, you can find several static web pages. A website that gives information without using any type of signalling; is most likely a static website. These are common in small businesses and organisations that seek to demonstrate their presence on the Internet. They do not want their identity to be stolen, and they do not conduct business on the web.
Hosting static websites is typically simple and inexpensive. However, updating it requires the assistance of someone familiar with HTML.
What advantages do static websites offer?
Development is not prohibitively expensive.
Simple to develop and quick
Hosting that is efficient
What are the disadvantages of static websites?

Can only provide essential information
Configuration of web content is possible.
Modification or updating of the website requires web skills.
What advantages do dynamic websites offer?
A dynamic website includes additional functionality.
Extremely simple to use and update
It enables easy interaction between online visitors and website owners. It enables the exchange of information between website owners and end-users.

What are the disadvantages of dynamic websites?

Hosting is expensive.
Expensive to develop
LATEST BLOGS
5 Aug
/
13268
views / by
Admin