Alexa Rank Checker
Enter a URL
What is

Alexa Rank Checker

Alexa Rank Checker is a Free SEO Tool designed to check Alexa Inbound links for your website or for the URL you have submitted in this tool.
Free Alexa Ranking Checker is the easiest and fastest way to simultaneously collect Alexa Rank, inbound links, and identify the Status of your website.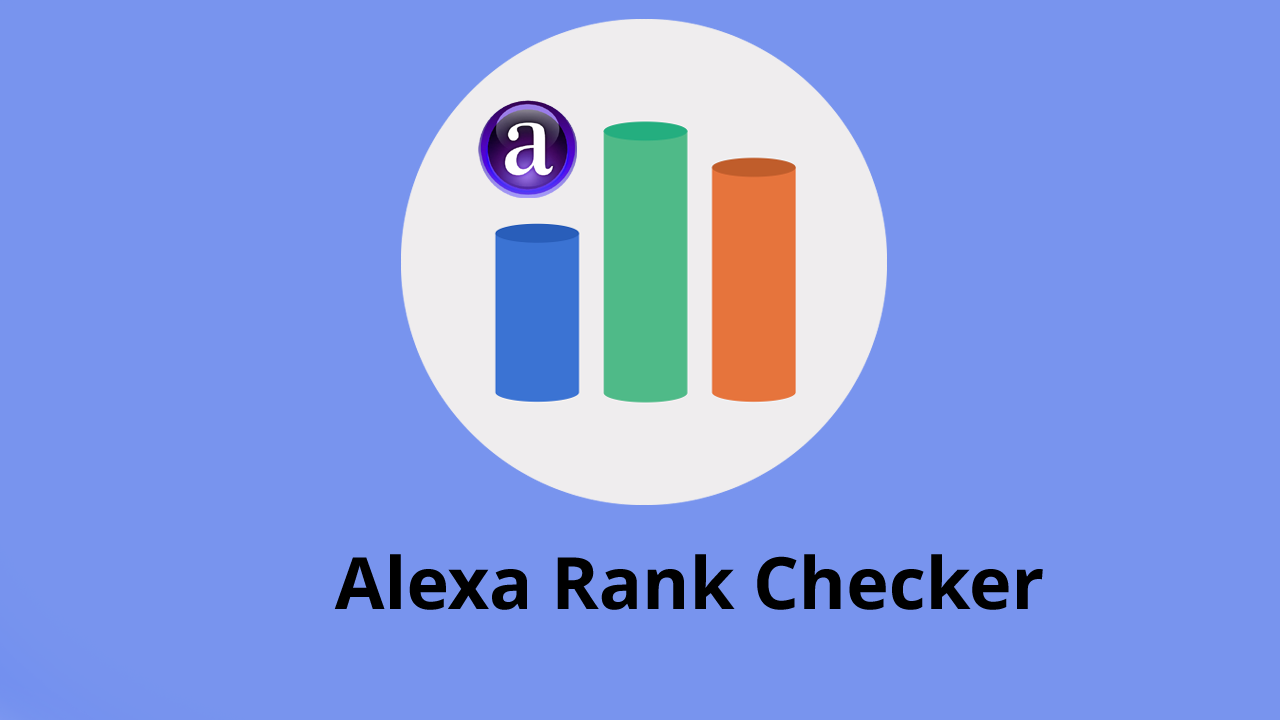 Alexa analytics is a free online tool that allows users to check the current location of a website that uses the Alexa ranking system.
The solution was created by experienced web developers who know everything there is to know about web analytics on the inside and out. You can rely on our webrank checker tool to provide accurate and easy-to-understand data from Alexa's web engines.
Alexa Rank Checker can provide you with the following information using Super SEO Plus Tools:
Global rank: the position of the website under investigation in comparison to all other websites on the internet.
How many people visit the website? (as estimated by Alexa based on the number of Alexa Toolbar users they are able to track).
The country with the highest percentage of visitors is known as the host country.
Country Rank is the position of a country's website on the internet.
Change: How the website's ranking has deteriorated or improved over time.
With its well-designed user interface, created for simplicity, Alexa Tool is extremely simple to use and intuitive to check. To use the tool, all you have to do is complete the following steps:
Step 1: Check that you are on an Alexa ranking page (https://superseoplus.com/alexa-rank-checker), which you most likely are.
Step 2: Type in the URLs that need to be checked. You can add up to 5 domain names to your account, and our system will check them all at once.
Step #3: Next, select "Check" from the drop-down menu.
Finally, the programme will provide you with the results of Alexa's bulk domain, which will include all of the above-mentioned elements. That concludes our discussion. That concludes our discussion.
You can also use the Alexa Rank Comparison Tool, one of our other free SEO tools, to get a head start.
There are a few tools available that can be used to check Alexa's rankings. Using a dedicated page, Alexa.com can even verify the rating of websites directly on its website.
So, why should you use this particular Alexa web rank checker from Super SEO Plus Tools? What distinguishes our tool from others in the same category?
To begin with, our tool was created using the most cutting-edge technology available in order to provide you with the most accurate results possible.
Furthermore, it is the most straightforward to use (we have evaluated several programmes, none of which makes it easy).
Furthermore, you can use our Alexa website checker to check for a complete FREE rating on a large number of websites (up to 5).
Normally, you wouldn't see this with most other Alexa Rank checkers. On Alexa.com's own website, you can't research multiple websites.
You can compare and contrast the Alexa rankings of several websites at the same time, which goes back to the marketing benefits of website checks.
We also used a proprietary algorithm to create this tool, which thoroughly evaluates the Alexa website's ranking. Our developers have ensured that everything has been thoroughly tested in order to provide you with the most accurate Alexa rankings possible.
If you want to get a sense of how popular a website is, one of the most popular ways to do so is to look up its "Alexa Rank."
Alexa is an Amazon. com-owned online analytics company that provides web traffic and other marketing data based on data collected via various toolbars and web browser extensions from all over the Internet.
Alexa Rank is the company's main service or tool, despite the fact that it provides a variety of services and has even participated in a number of major initiatives in the past (such as providing a database that served as the backbone of the Wayback Machine).
The "Alexa Ranking" is now a metric for measuring the popularity of websites. It's a global ranking system that uses online traffic statistics to rank the most popular Internet sites in terms of popularity.
This list does not include all domain names in the world, but it does include millions of them. The only reason a domain name isn't included in the Alexa Rank list (which happens automatically) is that it isn't popular enough in terms of visitors or users.
According to Alexa, the rating is based on "how well a website has performed in comparison to all other websites on the internet over the last three months."
How Web Alexa websites are rated, the more popular a website is, the lower its rating is. Yes, it's perfectly normal! It's perfectly acceptable! This indicates that Alexa's website is ranked "1" as the most visited, as opposed to, say, "100,000."
Bring this with you: Let's take this one a step further:
The Alexa Rank Checker in our Super SEO Plus Tools allows you to quickly determine the Alexa Rank of any website on the Internet. The programme was designed to be dependable, so you can count on it to provide accurate and understandable data from Alexa's web engines.
We'll talk about Alexa Checker in more detail with Super SEO Plus Tools later, but first, let's look at how Alexa Rankings work and why they should be checked first.
"The traffic rank is the combined measure of page views and user reach, and is based on three months of aggregated traffic data from the millions of people who use Alexa Toolbar plus data from other various traffic data sources," according to Alexa.com.
This means that the ranking is determined by a proprietary algorithm that combines the estimated average daily visitors to a site with the estimated page views over the previous three months to produce a ranking. Alexa collects information from millions of people who use the company's toolbar on the internet.
The Alexa toolbar is available as a browser extension for Chrome, Firefox, and Internet Explorer, as well as on Alexa's website.
Alexa must be installed in the user's browser in order to obtain these statistics.
The majority of people do not value Alexa Rank because it is not EVERY internet user (ever) who downloads and uses a toolbar. "Alexa's traffic estimations and rankings are based on browsing behaviour, which is a sample of all Internet users," Alexa admits.
In most cases, however, Alexa's statistics can give you a "general" idea of how popular a website is. So, why are you looking for this information? What do you need? What exactly is it that you require? That's what we'll discuss next.
As Alexa puts it, you can find out "how well a website has performed in comparison to all other online sites over the last three months." Verify Alexa Rank for free with our website analysis tool.
With Alexa Rank's analytical data, you can do the following four things:
Self-evaluation: As a blogger or website owner, it's critical to understand Alexa Rank because it gives you a clear picture of how popular your site is on the Internet. You can use the information to devise the best strategy for increasing traffic to your website or to outperform the competition by taking the most calculated steps. Yes, you can use Alexa Web Ranking as a tool to track how your website is doing, whether it's losing or gaining popularity. Of course, if you notice it's dwindling in popularity, you can quickly remedy the situation and acquire items.
Competitive Intelligence: Alexa has the potential to be a competitive intelligence tool. This means you can use the data to conduct a competitive analysis to determine how much traffic a competitor's website attracts. You can also compare and contrast your websites by understanding how they compare in terms of web popularity. Our one-of-a-kind application, Alexa Checker, is incredible because it allows you to check the Alexa website details of multiple websites at the same time.
Marketing analysis: If you're a marketer, Alexa Rating gives you an idea of how popular a website is so you can decide whether or not to target your advertising on it and at what cost. In fact, one of the variables advertisers consider when determining the marketing potential of targeted websites is the Alexa website's rating.
Alexa Rank divides web pages into three categories: "global," "country," and "category." You can learn "who is who" on the most visited websites in a given country or sector by looking at the "Country" and "Category" rankings. You can also see how your and your competitors' websites rank in terms of country and category.
Let's double-check your Alexa Rank now that you know what to do with the information (with Alexa Analytics by Super SEO Plus Tools, of course).
Design for the studio
Improved Plagiarism Checker is one of the most popular SEO tools.
Make a check grammatical mistakes
Search for the logo's Reverse Image Maker.
What is the nature of my identity?
Test Internet Speed Checker Convert PDF to Word Additional SEO Resources
The article has been improved.
Improved Keyword PositionDomain Authority Checker Checker for articles Backlink Compressor is a tool that reduces the number of links in a
Video Downloader Video Downloader for Facebook PDF HEXImage Gif Video from Word RGB Resizer.
LATEST BLOGS
5 Aug
/
13249
views / by
Admin