Pagespeed Insights Checker 100% Free
Enter a URL
Pagespeed Insights Checker Overview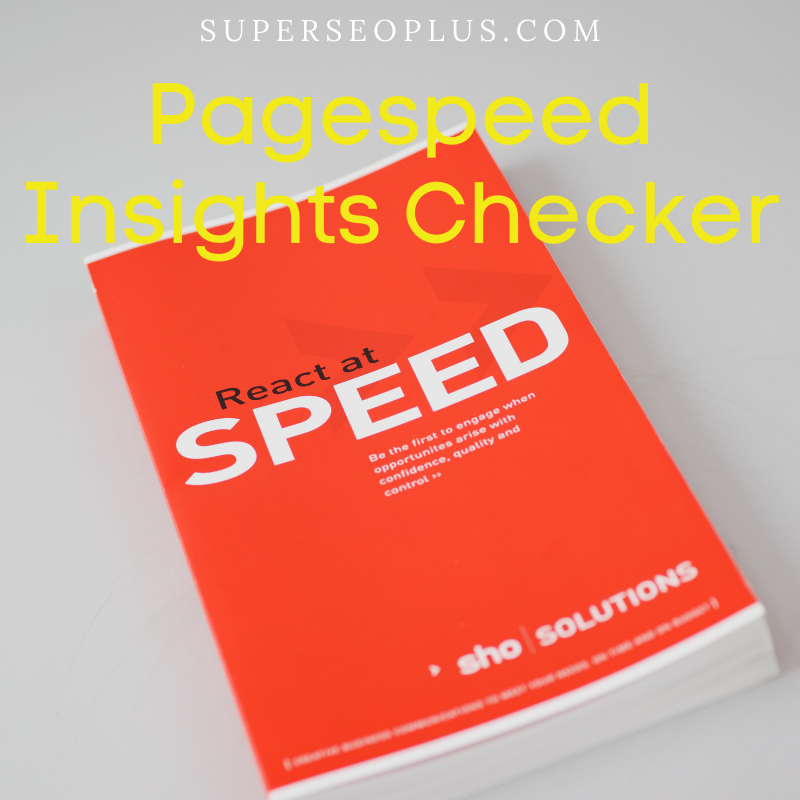 Google Pagespeed Insights Checker Free Tool is an advanced Free SEO Tool.
Google pagespeed insights checker will check your webpage Speed Score analysis, your page code and give you the most useful page optimization suggestions. This tool is among the most important Google ranking factors, and every webmaster must focus on improving their site's speed.
According to surveys, more than 45% of people expect a web page to load in less than 2 seconds, and 40% leave a web page if it takes more than 3 seconds to load! So it becomes really important for every webmaster to reduce their site's loading time. Google thinks site speed is most important.
Google introduced their Pagespeed Insights tool in 2011 to provide a measurement and recommended improvements to slow loading pages.
What is the function of the speed checker?
This tool is used to determine how fast a web page loads. This programme determines how quickly the webpage loads. It will take longer for your website to load if it contains a significant number of embedded photos and videos. Because Google considers page load speeds to be an important SEO element, having a low page view count will have an impact on your website's search engine results ranking. This tool is really user-friendly. Simply type the URL into the textbox and press Enter to get the results in a matter of seconds.
SPEED EVALUATIONS PAGE
Improve the speed with which your website loads! The speed at which your website loads is something you should consider. Click "Check Page Speed" after entering the domain or URL in the area below. The exact findings will be sent to you as soon as possible.

Super SEO Plus Tools offers a website speed test.
You may use Super SEO Plus tools to monitor the speed of your website by using this Speed Test tool.
It is vital for you to evaluate your website's speed as a website owner or webmaster because it has a big impact on the entire user experience.
We are all aware that visitors are impatient when browsing various websites and want to acquire all of the information they needed as soon as possible. This is why we developed a free website speed test tool.
Our purpose is to help website owners figure out how to increase performance by determining load times. The Speed Test Tool on this website can be used to check if pages load quickly or are too slow.
Because of its simplicity, using this site speed test tool does not necessitate any special skills. To get rapid results, simply enter the URL of the speed test website you want to use and click the "Check" button.
We wanted to give every website owner and webmaster a powerful tool to help them optimise their sites and drive more traffic to them.

Why should you use the Speed Test function on our website?
Super SEO Plus Solutions' mission is to provide the most effective and dependable search engine optimization services possible to all of our customers.
This page speed test tool was built by our development team to aid website owners in ensuring that their users have a great experience while on their site. the web page The majority of visitors have zero tolerance for slow-loading pages or websites, thus loading time is crucial.
If your bounce rate is high, use our website speed test to see which pages need to be changed for better navigation. This is the only way to keep visitors on your website for a longer amount of time, which can help you generate cash when selling products or services.
Several website owners have already noticed that they are losing money as a result of potential customers abandoning their sites owing to slow page loading times and bad performance. The obvious reason for this is that they never ran a page speed test or paid attention to how long it took for the website to load.
What is the definition of a website's speed?
"Speed Web site" is also known as "Load Time Web site," and refers to the time it takes for a user to view the whole contents of a web site. It's also time to use a web browser to get information from the server.
Because internet customers dislike waiting for long periods of time, website speed is an important feature in the classification of pagespeed insights.
The speed test tool on our website is the only tool you'll need to see if your website loads quickly. It can provide you with all of the information you need about a website's loading time. This website's load testing tool assesses a range of images and files.
Keep in mind that a website that loads quickly is almost always a good thing.
Why is it important to perform a page speed test?
To establish the average time it takes for your website to load, we recommend that all website owners perform our website speed test.
There are a number of factors that can affect page performance these days, especially with the addition of complex functionality to web pages, including the following:
Animations and Slideshows
Outside Applications, etc., photographs of amazing quality High-resolution videos
Keep in mind that the time it takes for your website to load is extremely important to your visitors. They expect a webpage to load in less than two seconds for the most part. They will exit the page and move on to the next website if they do not do so. Keep in mind that this page speed test should be performed at least once.
To avoid this, you should test your pages frequently using our speed test page, which will help you optimise your website by increasing visitor traffic. Because the more material you provide, the more likely you are to achieve a high page rank.
Additional information regarding the Speed Checker page can be found below.
A decent website should have both high-quality information and a fast loading time. Page speed not only benefits the user, but it also represents the efficiency with which a website performs.
Increasing site traffic and revenue by making your website more appealing and user-friendly to the website owner or administrator. This website performance testing tool might help you, especially if your website has a high bounce rate. Because it uses a typical web-speed test to provide the website owner with an idea of the website's performance on the internet. The results of this website speed test will provide you all the information you need to optimise the speed and overall performance of your Google page.
Increase the Speed of a Google Page Using These Techniques
The following are some helpful ways for making your Google page faster:
Use the correct image size - while adding photos to your webpage, make sure they're the right size, as huge images can slow down your site.
Use Compression Programs - For compressing huge files, there are a number of compression programmes available on the Internet. This can help save data while also increasing page views.
To improve the HTML, CSS, and JavaScript performance of a website, use a simple tool. To accomplish this, you can use a specialised tool to eliminate unnecessary characters from HTML, CSS, and JavaScript scripts, such as commas and spaces. To determine the efficacy of HTML and CSS minification, run a page performance test once the code has been reduced.
Utilize a leveraged browser caching browser - it can assist in the creation of a cache for a significant quantity of data so that the browser does not have to refresh the full page when a user returns to the same web page.