Domain Age Checker age checker
Info about Domain Age Checker
Domain Age Checker Free Tool is a Free SEO Tool that lets you look up a domain's age quickly and easily. If you have an aged domain, this tool makes your research easy.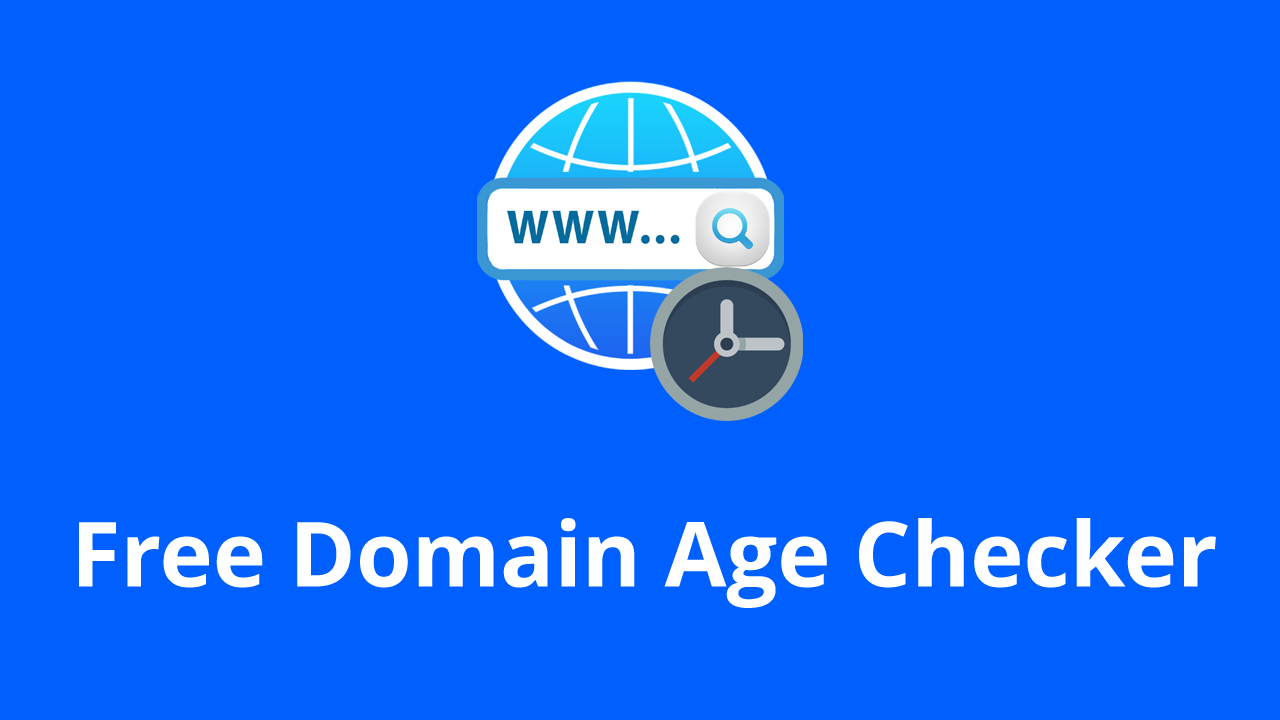 VERIFY THE DOMAIN'S PERIOD OF EXISTENCE
What method do you use to learn about your company? HOW ARE YOU GOING TO KNOW WHAT YOUR BUSINESS IS?
In internet business, your ability to "do" is directly proportional to your ability to "know."
Because you're only going to apply what you know. And your outcomes will be determined by your actions.
You can push the competition a step farther with even the most seemingly insignificant facts.
This clearly necessitates essential skill, such as understanding how to best win clients for your business. It does, however, offer fundamental information such as the age of your URL's domain.
That is why we have created the Domain Age Checker standard tool, which is both free and premium.
What is the Domain's Age?
Simply, "domain age" refers to how long a domain name has been active. It's as though the domain name has been around for a long time.
For example, if a domain name was registered in 2010, it will be ten years old by 2020.
What's the domain's name, by the way? It's the same as a website's URL, which is superseoplus.com. This is the address that users can use to get to your website on the internet.
SuperSEOPlus Tools AGE CHECKER ON THE DOMAIN
Domain Age Checker is a tool that we developed primarily for the purpose of determining the age of any domain name on the Internet.
Due to its core domain name checking abilities, this is by far the most powerful checking tool on the internet.
Other domain age checkers often display the domain's age in years.
The Domain Age Checker from SuperSEOPlus Tools, on the other hand, is a lot more sophisticated.
Not only does our domain tool show you the age of your domain name, but it also tells you what hour it is, what day it is, what month it is, and what year it was registered.
This, however, is not all:
Our Domain Age Checker also provides you with more information about your domain name, such as:
The domain's most recent update
The domain's expiration date.
IP (Internet Protocol) (the IP address will tell you who is currently hosting the website and the type of IP address it has)
Name servers for the domain are connected
Return to the Archive.org domain name history check link, which includes information on designs, layouts, and materials.
A domain name registrar is a company that manages the registration of domain names.
This means that the tool may be used as a domain age checker as well as a domain expiry date checker.
domain checker web checker IP address checker IP address check
Check the Domain Name of a Server
Checker for domain registration
With those qualities, one can only conclude that this is not your typical domain age checker, but rather a clever domain name analyst.
Oh, and we also mentioned that you'll get everything for free. Yes, it is completely free. There are no monthly fees or hidden charges. It is even possible to use it without first registering.
What are your plans for using this Domain Age Checker?
You wouldn't believe how simple it is to utilise our Domain Age Analyzer!
You can check the age of a single domain name or the age of the entire domain.
As an example, consider the following:
Step #1: To use the tool, you must first visit this page (https://superseoplus.com/domain-age-checker).
Second Step: Second Step
Fill up the given text box with your HTTP:// domain name(s).
Step three: Step three
To complete this request, click "Check Domain Age" after you've entered your domain name(s).
The outcome of our well-built engine takes about a second to return, and it looks something like this:
You may access additional information by selecting "More Info" from the drop-down menu:
The engine will show you the way back to the domain history if you click on "Domain history." The domain's whole history will reveal whether it was registered 15 years ago, used for five years, then rejected and re-registered three years ago.
This provides a pretty accurate indication of the domain's age. You'll also find out if the property has had multiple owners in the past.
There isn't a more advanced machine on the Internet than this one.
What factors do you consider while deciding on the age of your domain name?
There are a number of reasons why you would want to look up the age of a domain name, which are described below.
First and foremost, keep in mind that you have the option of checking:
The age of a domain name you want to buy that is already registered.
The age of your competitors' names, or the age of your own domain name.
The primary reason for performing a domain age check is to determine when the domain was registered and how old it is today.
You might already be aware of when your own active domain name is registered. If you're going to look into it, this isn't the ideal way to spend your time and won't benefit you in the long run (unless you forget your domain name registered).
As a result, we're left with two options:
Examine the age of a domain name before buying it.
Examine the age of the fields in which you'll be competing.
For you, checking the age of your competitors' domain names means only one thing: you'll know how long their domain names have been in existence, giving you an indication of who you're up against.
On the other hand, it gives you an idea of how old a domain name you're interested in purchasing is.
There are two reasons why knowing the age of a domain is important: Because of the following factors:
You'll get a sense of the size of the backlink profile for your domain name.
There's a good chance that an older domain name has a more extensive link profile.
What is the reasoning for this? What is the reasoning for this? Because it has been around for a long time and has gathered specific links throughout time. The owner may have made efforts to develop some high-quality links, and search engines consider the quantity and quality of backlinks when ranking websites. Future owners may benefit significantly from the prior owner's SEO efforts in developing a strong link profile.
You can find out how well a domain ranks in search engine results.
A long-established domain name (with a high-quality backlink profile) may be quite searchable, as previously noted. In fact, most SEOs believe that the age of a domain is one of Google's ranking determinants. A website with a high search engine rating saves you a lot of time, money, and effort when it comes to SEO. Checking your age might also give you an idea of how impressive your name might be.
You'll get a sense of how much traffic you'll be dealing with.
In a long-running and well-established domain, there will be a lot of traffic.
Although other factors of a website's traffic, such as regular content generation, are determined by its traffic, a domain name that has been around for a while will "naturally" perform better than new domain names in terms of organic or direct traffic.
You get an impression of the domain name's repute.
Purchasing a brand-new domain name entails starting from the beginning in order to build a great reputation. Long-standing domain names, on the other hand, may have a positive reputation in their market segment. This indicates that customers have already developed some trust in the brand name because it was present and they were familiar with it. You can tell how long a domain will last by looking at the age of the domain.

You get a sense of how bad the domain name could be. All long-established domain names arrive clean and clear, as you can see from the four characteristics listed above. Don't get me wrong: not all of them are flawless. After you've examined a domain name's age and discovered that it's been around for a while, you can see if it's been negatively tagged and how long it's been associated with. For example, the previous owner may have tried to gain an edge from search engines by employing black hat SEO tactics. Another issue with some of the existing domain names is that their users have a bad reputation. Some users may mark the website as spam or malware, causing it to be blocked or classified as such. If these flaws are not addressed, the domain's future may be jeopardised. The domain name check gives you an idea of how long it's been so you can conduct some background research before buying it.
THE NEXT STEP
Just go ahead and check it out right now!
All of the domain information offered by our tool can assist you in making the right decision when it comes to purchasing a used domain name.
You should not, however, rely just on this one tool for making decisions. You should thoroughly investigate the domain name, and we provide a variety of tools to help you do so.
Backlink Checker, Whois Checker, and Domain Authority Checker are the tools we use. All of these resources can assist you in making an informed decision about whether or not to purchase an existing domain name.
LATEST BLOGS
5 Aug
/
28098
views / by
Admin