Page Speed Checker - Free Website Speed Test Tool 
Page Speed Checker Overview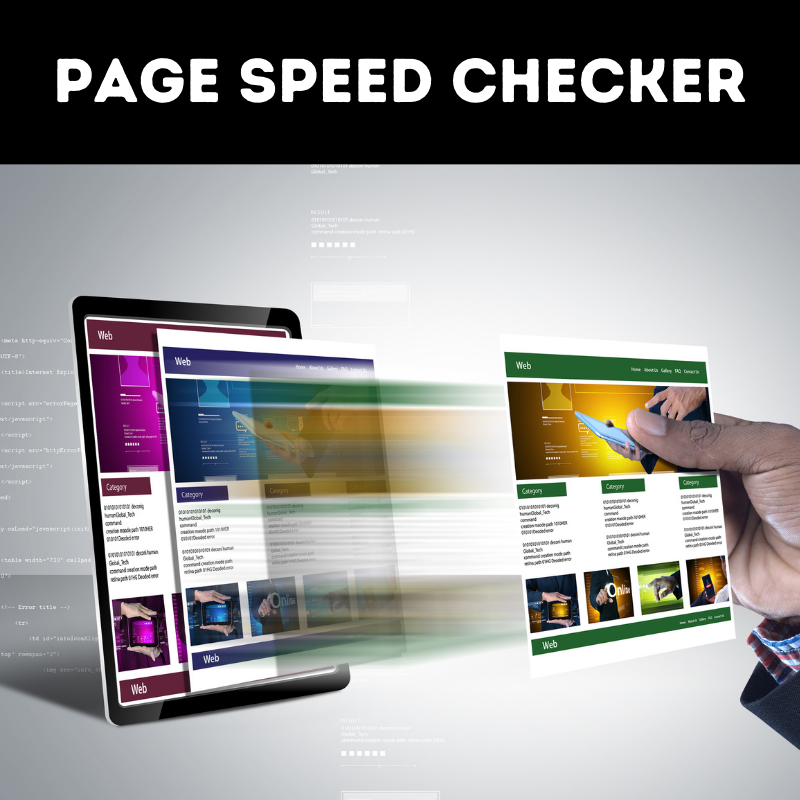 Page Load speed or Page Speed Test is a Free Website Speed Test Tool that allows you to analyze the load time for your website. Page speed is an important factor in search engine rankings. Slow-loading websites are the worst, and this could be costing you through the loss of potential customers.
PAGE FOR SPEED TESTING
Increase the speed with which your website loads! You should be aware of how quickly your website loads. Enter the domain or URL in the box below, then click "Check Page Speed." In a matter of minutes, you'll have full results.
The Website Speed Test Tool from Super SEO Plus Tools is a great way to find out how fast your website is.
Super SEO Plus Tools recommends utilising this website speed test tool to keep an eye on the speed of your site.
Website performance is extremely essential to you as a website owner or webmaster since it can have a significant impact on the user experience.
We all know that when people visit different websites, they don't have a lot of patience and want to get all the information they need as soon as possible. This is why we created this free online performance testing tool.
Our goal is to assist website owners in determining how long it takes for their website to load and how well it performs. This website Speed Test tool can determine which pages on your site load quickly and which load slowly.
Because it is so user-friendly, this site performance assessment tool isn't necessary. You will only need to enter the URL for the speed test page you want to run, click the "Check" button, and the results will be provided to you right away.
We hoped to provide all website owners and webmasters with an extremely useful tool to help them optimise their sites and attract more visitors.

What are the benefits of using our website's speed test tool?
Super SEO Plus' goal is to provide the most effective and dependable tools for optimising your search engine to all of our users.
This page speed test tool was created by our team of engineers to assist all website owners in ensuring that their visitors learn more about their sites. Because most consumers do not have a sluggish loading page or website tolerance, the speed with which your website loads is critical.
If your bounce rate is high, utilise our Speed Test tool to determine which pages need to be optimised for easy navigation. This is the only method to keep users on your site for longer, which means you may earn money if you sell products or provide services.
Many website owners have previously suffered financial losses as a result of poor performance and slow loading times for their potential customers. The obvious answer is that they have never performed a page speed test or paid attention to the website's loading delay.

What exactly is a website's speed?
The term "website speed" is also known as "website load time," and it refers to the amount of time it takes for a user to see all of a website's contents. It's also time to use a web browser to retrieve information from the server.
Customers on the internet do not want to be kept waiting for lengthy periods of time, so website speed is one of the most essential factors in the classification of pagespeed data.
This website speed test tool is the only one you'll need to see if your site loads swiftly. It can provide you with all of the information you require regarding the website's loading time. This website's load test tool examines anything from different visuals to files.
Always keep in mind that a website with a faster loading time is more likely to generate outstanding outcomes.
What are the benefits of performing a page speed test?
We recommend that all website owners run our website speed test to see how long their page takes to load.
Today, a variety of factors can influence page performance, including the addition of complicated features to web sites, such as:
Slideshows with animations
Pictures of exceptional quality
External apps, high-resolution videos, and so forth.
Please keep in mind that the time it takes for your website to load is extremely important to your visitors. A webpage should load in under two seconds, according to most people. They will exit the page and move on to the next website if this is not the case. Remember to put this page speed test to the test at least once.
To avoid this, you should always check your pages using this speed test page to improve your website's performance by increasing visitors. Because the more satisfied customers you have, the higher your page rating will be.
More information on the Speed Checker can be found on the Speed Checker page.
The key to a successful website is quality content and rapid loading of the website. Page speed not only provides users with satisfaction, it also shows how efficient a website is in terms of performance.
For a site owner or administrator, it is vital to make your website nice and user-friendly, as this may help to enhance site traffic and earn cash. This website speed testing tool could aid you tremendously, especially on pages with high bounce rates. Because it gives the website owner a sense of how the website functions on the Web with a conventional web speed test. The results of this website speed test can offer you all the information you need to take the essential actions to boost Google's speed and overall performance.
Ways to Speed Google Page
The following are some significant recommendations on how to boost the page speed of Google:
Use suitable picture size - they must be of the suitable size for adding photographs to your webpage, as larger images could slow down website speed.
Use Compression Tools - various compression software accessible on the Internet nowadays can be used to compress big files. This can help you conserve data and boost page views.
Use an HTML, CSS and JavaScript tiny tool, which helps to optimise a website and boost page performance. This is achievable with a specific tool to erase superfluous characters such as commas and spaces in the script, by deleting HTML, CSS, and JavaScript codes. Go to the page speed test after minifying code, so you can observe how successful HTML and CSS minifying are.
Use a lever browser caching browser - it may help you develop a cache for a bunch of information, so when a website user returns the browser does not need to reload the full page.
LATEST BLOGS
5 Aug
/
13248
views / by
Admin