Link Analyzer to find internal links
Briefly, what is Link Analyzer Tool

Link Analyzer tool is a Free SEO Tool used to find internal links and external links along with anchor text from a webpage or website or URL you submitted in this Tool Box.
This tool is required for SEO in order to track and count the URLs.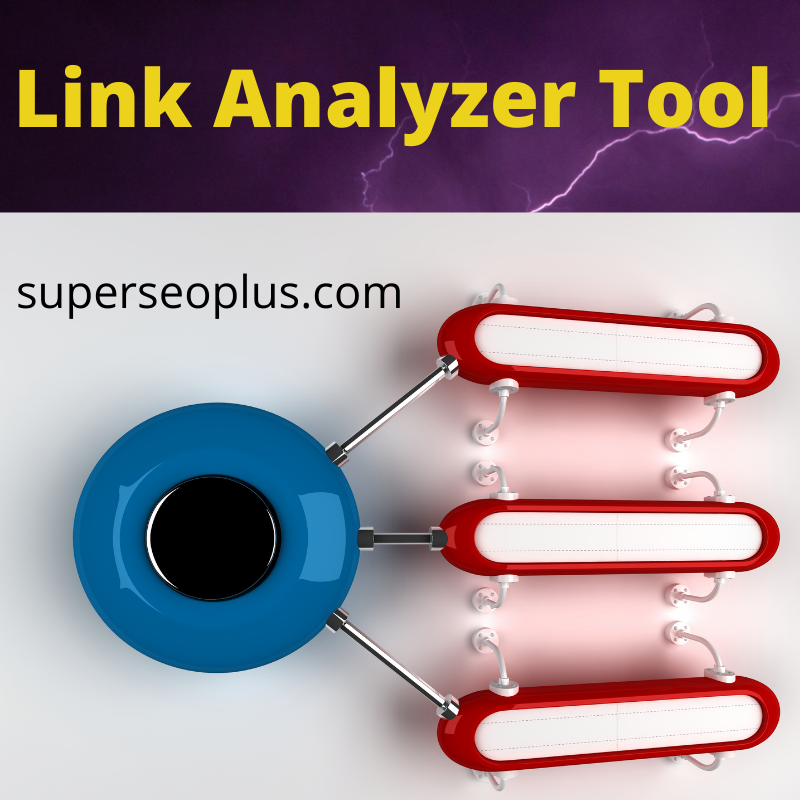 ANALYZER OF LINK TOOLS
With the Link Analyzer Tool, you can keep track of all of the links on your website. You can use this tool to examine both external and internal links to your website. Simply type in the website address. Simply fill out the form.
Use this Link Analyzer tool from SuperSEOPlus Tools to assess the links on your website.
This free Link Analyzer tool by SuperSEOPlus Tools simplifies the inspection and analysis of your links, whether you're updating or conducting a regular link audit in response to the latest Penguin update.
This website link checker tool can only be used to evaluate your links on a single URL at a time (web page). As a result, if you want to conduct a thorough link audit, you must examine each web page individually, rather than simply the homepage.
Simply enter the URL of the website you want to analyse and select whether you want to access external links, internal connections, or both when using this Link Analyzer tool. You may also use the checkbox to see which links you don't want to follow.
The data is immediately generated by this Link Analyzer programme. It will generate a report with all incoming and outgoing links, as well as the anchor text associated with them. If there are any hyperlinked images on the page, the alt property of this image is used as the anchor text.
This Link Checker is a Super SEO Plus Tool that is designed to assist website owners, webmasters, and SEO specialists in analysing the links on a website. This fantastic application can simultaneously determine the links that spiders crawl on a website. Simply type your website's URL into the text field and select "Analyze links" from the drop-down menu. In a matter of seconds, our system will process your request and display the results.
The number of links on your website in total.
The number of links on a single web page.
The number of links on a single web page.
The number "no" is followed, as are the links on a web page.
This Link Analyzer is a fantastic tool for keeping track of the links on your website or blog. This tool assists you in evaluating your website's internal and external links.
You may easily find dead links on your website and remove them to improve the page's quality with our website link control system. This is beneficial to your website because it contributes significantly to search engine optimization. It increases your chances of achieving a high page ranking for your websites.
What role does the Link Analyzer play in your organisation?
Many website owners and webmasters find Super SEO PlusTools to be one of the most useful tools because it provides information on a site's inbound and outbound connections. This website analyzer is quite useful. The data will enable you to quickly analyse the Website links and compare them to the number of inbound/outbound links on your competitors' websites.
The search engine rankings have a significant impact on your website, and a distinct parameter is measured that is only understood by search engines like Google. This is why it is always preferable to clear your websites of broken links and other issues, as this will allow you to rank higher in the search engine results pages. This free online link checker can assist you in determining whether or not your website has broken or hazardous links.
It would be quite beneficial to your website if you attempted to locate links that your competitors' websites lacked. You should also avoid relying on any link-building or SEO software or scripts for link-building success. Page rankings will improve if your website is clean, fresh, and authentic. Maintain your focus and aim to outperform your competitors' websites.
What are the benefits of using Link Analyzer?
The link analyzer can look at your website both internally and outside, but it will not follow any links to your site. The link checker was created to provide website owners, webmasters, and SEO professionals with a tool that provides accurate results and allows them to analyse all links on a given website.
A table of internal and external website links will appear in front of you. If your site has hidden or spam links, you can use the link analyzer tool to find out what they are. It will also show you which websites are sending you traffic or backlinks. You can use this tool to improve other links and obtain a higher page rating in numerous search engines, such as Google, so you can focus on your most important web pages.
The volume and quality of incoming links have a significant impact on the search engine ranking of a website. It is critical that you research the competition, create an optimised website, and increase your traffic by understanding your competitors' link-building strategies. This link checker tool can be quite useful in providing you with a more accurate and trustworthy backlink research report for your website.
Link Analyzer Methodology That Works
One of the most crucial components of search engine optimization is link analysis. The total number of links to your website that are addressed or connected must be correct. You may take advantage of SEO by carefully examining incoming and outgoing links.
Although there are many similar SEO tools available on the internet, this is the best free online link analyzer available. This website link inspector may provide you with all of the information you require to examine your website's incoming and outgoing links. You do not need to register with an email address or download anything to utilise this tool.
(https://superseoplus.com/link-analyzer-tool)
LATEST BLOGS
5 Aug
/
12344
views / by
Admin