Google Index Checker - Check indexing status for free
What is Google Index Checker/Crawler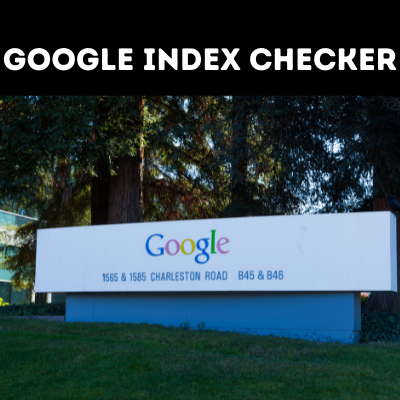 Do you want to check how many links are indexed? crawling status? Google Index Checker free Tool is a Free SEO Tool for Webmasters that allows to quickly and easily access stats about how many specific URLs (web pages) that Google is able to crawl or index on a website.
CHECKER INDEX GOOGLE
You can check the status of multiple URLs in the index of Google with the bulk index control. Instead of individually checking each URL, the Google Index status is examined for all five URLs at the same time.

How do you think about BULK INDEX CHECKER?
This Google Index Checker Tool of Super SEP Plus is valuable to many website owners and webmasters since a quick indexing test can tell you how many of your websites were indexed by Google.
Just enter the URLs in the field you want to verify in bulk, then click on 'Check' and the programme will deal with the rest. It will generate an answer in a matter of seconds, which indicates whether Google indexes these URLs.

INTRODUCTION OF CHECKER GOOGLE INDEX
You may check the Google Index status of numerous websites at once in this Google Index Checker.
Increasingly, many website owners, webmasters, and SEO specialists use tools like Google Index Checker for Super SEO Plus Tools to quickly and easily discover how many Google web pages (URLs) can crawl or index for a specific website.
With this Google Index Checker application you can check the Google Index status of up to 5 web sites at once in a matter of a few seconds!
CHECKER FOR GOOGLE PAGES INDEX: TEST INDEXING
If you'd like to know how many of Google's web pages are indexed, the Google Indexed Page Checker is helpful. This valuable indexing test is important because it helps you to correct mistakes on your sites so that Google has them indexed and more organic traffic may be obtained.

What is the Google Index coming from?
Google regularly scans millions of webpages and generates an index to each of them. However, it is probable that not all the websites it visits will be indexed. Google will not index anything until it finds interesting keywords, names or themes.
That's why many webmasters, SEO specialists and website owners worry about Google searching through their sites. Because nobody understands how or what criteria Google employs to index web pages other than Google. All we know is that Google looks for and analyses three elements when it comes to indexing a web page: content relevance, authority and traffic.
In addition, there is no way to tell if Google will visit or select to index a certain site. It is therefore vital for a website owner to guarantee that all issues on their websites have been fixed and that they are suitable for optimisation of search engines. This Google Index Checker tool can help you find out that Google has not yet indexed pages on your website.
Don't fear if your site has not yet been indexed; Google continuously monitors and indexes webpages. You should concentrate on enhancing your website's content and traffic because your website develops relevance and authority as traffic increases, which leads Google to notice and start classifying it. Just continue with the Google indexing monitoring tool and focus on increasing the performance of your website. More organic traffic can take some time, particularly for newly started websites.
You can also help improving your links; however, you must only use legal links. Paying link farms might harm your website more than good, so avoid them. After you've indexed your website, you should work hard to maintain it. This may be done by continuously upgrading your website and ensuring that it retains its relevance and authority to a page ranking.

What's your Google QUICKLY web page?
If a large number of pages are not indexed by Google, the quickest way to do this is to quickly index your web pages by creating your website map. A sitemap is an XML file you can instal on your server to record all pages. For your convenience utilise our sitemap-generator tool with this URL at https://superseoplus.com/xml-sitemap-generator/. After creating and installing your sitemap, you have to forward it for indexing to Google Webmaster Tools.
It is useful if you publish posts on your websites on different social networks such as Facebook, Twitter and Pinterest. You should also guarantee that your web material is of good quality.
If your website is just launched, Google usually takes some time to index your website posts. But if Google does not index your website pages, just utilise 'Crawl as Google,' it can be found on Google's Webmaster tools.
Why do you use this CHECKER GOOGLE?
Every website owner and webmaster would like to ensure that Google is indexed for the purpose of supporting organic traffic. You will get a clue that Google doesn't index between your pages with this Google indexed page checker.
Google looks closely at each website, like other major search engines, which goes live on the web. It occasionally visits and monitors all websites on the internet.
With this tool, you may verify that all of your web pages have been indexed by Google, particularly the fresh ones recently published. Regardless of how many pages you have on your site, the number of pages Google has indexed really counts. Sometimes Google does not take into account large sites with numerous pages and prefers to index smaller websites with fewer pages. Google analyses the quality of text, website links and traffic. It will presumably index websites with materials that are enticing to many users and linkages which bring greater traffic.
When you make changes to web sites, you shouldn't forget to re-index Google web pages and then check whether they are all Google indexed.
LATEST BLOGS
5 Aug
/
14666
views / by
Admin