Domain Hosting Checker
Read about Domain Hosting Checker Free Tool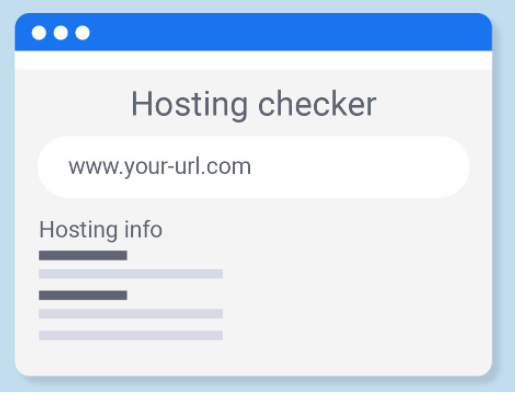 From its name, Free Domain Hosting Checker is a Free Online Hosting Checker Tool that allows one to Discover who is hosting a particular site. Just enter the URL of the website you would want us to look up and see the result in seconds.
Checker Domain Hosting Information
The results are presented by the Super SEO Plus Tools Website - Host Checker tool.
Users can utilise this free internet host control system to find out who is hosting a particular website.
A web hosting services provider is an online business that provides website owners with the technologies and services they need to make their website or webpage available on the Internet. Web hosting services involve storing website material and databases in a secure environment. They also provide email services and other website maintenance services.
Website owners can reach millions of people thanks to the hosting service because their website may be accessible without interruption via the internet 24 hours a day, seven days a week. A web hosting company can also help a website load quickly, so it's important to find a high-performance web hosting company.
This free web host checker was created to assist you in locating the best website hosting service for your needs.
This Hosting Checker can also be used to contact the hosting firm if you discover a website that infringes on your rights in some way. You have the option of requesting that the infringing content be removed from the online hosting service.
What is the functionality of our Host Checker website?
This free internet tool allows users to find out who is hosting any given website.
Simply input the URL of the site you want us to look for, then click the "Host Check" button on this webpage to utilise the Host Checker. The outcomes are displayed immediately.
This free online host checker is ideal for new website owners who are looking for the best web hosting and uptime assurances.
Is it necessary to create a user account before using the Host Checker website?
There is no need for us to register our users, and there is no need to pay.
Our Host Checker website is a completely free internet utility that you can access at any time.
Users can host web data with a single click using this host search tool. Simply enter the URL of the website you want to examine, and we'll provide you with the hosting information.
Because our tool uses unique algorithms to check the host details, you can now search with confidence using our fast and reliable results.
Our goal is to provide you with the most comprehensive internet host search possible.
Why do we need to hunt for website hosting providers?
This website's Host Checker can assist you in determining a website's host. It provides you with a clear picture of which web hosting company could provide the most value for your online business. You may compare performance, ranking, platforms, and geographical regions with this data.
Our free online Host Checker Website is the best way to get in touch with any domain's hosting provider.
Web hosting provides all customers with the technology and services they require to make the Web operational and accessible on the Internet, whether for personal or business purposes. This service can also be used in shared settings, where a single server is used to host multiple websites. All web material, including photos, graphics, and text, was stored locally on the web server, ensuring that performance was not reliant on files stored elsewhere.
Many years ago, web hosting was restricted to web-based projects. Their low prices have attracted a large number of website owners who are willing to share their findings and forego the most cutting-edge technologies. Throughout the years, this inadequacy has been properly addressed and remedied. Clients now have access to cutting-edge technology, good customer support, and competitive price through web hosting. As a result, an increasing number of website owners are appreciating the fact that many modern web hosting providers provide exceptional performance and platforms.
There are thousands of web hosting providers to choose from, and we understand how difficult it may be to figure out which of our web hosting businesses is best for your website. You only need to use this Website Host Checker to help you create a shortlist of the top web hosting services.
Based on the recommendations provided by numerous websites, this host search tool can be used to determine which website host is being requested. The number of virtual domains hosted on a specific server, as well as the bandwidth provided by the web host, affects the performance of a website.
Because transferring a website from one web host to another is such a huge challenge, selecting the most effective and reputable web hosting firm is critical. This strategy can help you save a great deal of time, effort, and money.
Disclaimer: Please read the following carefully.

The information in the Super SEO Plus - Website Host Checker is provided as is, with the firm's belief that it is reliable, but no guarantee or assurance is given as to its accuracy. The sole purpose of this website is to provide users with information about domain name registration. Without the firm's prior written consent, any use of this information for other purposes is prohibited, including but not limited to enabling or permitting the broadcast or gathering of such data in whole or in part for any reason, such as the sending of unsolicited ads and requests. You may not use this information to allow or promote any marketing activities, regardless of the medium used.
Email, mail, SMS, phone, fax, and wireless alerts are just some of the options available. Furthermore, you are not permitted to sell or disclose the information. By submitting a query on this website, you agree to our terms of service and warranty limits.
LATEST BLOGS
5 Aug
/
28103
views / by
Admin