---
The best blog finder tool online
ARE YOU BUILDING HIGH-QUALITY BACKLINKS? ARE YOU LOOKING FOR UNIQUE CONTENT? THIS BEST BLOG FINDER TOOL WILL BE HANDY!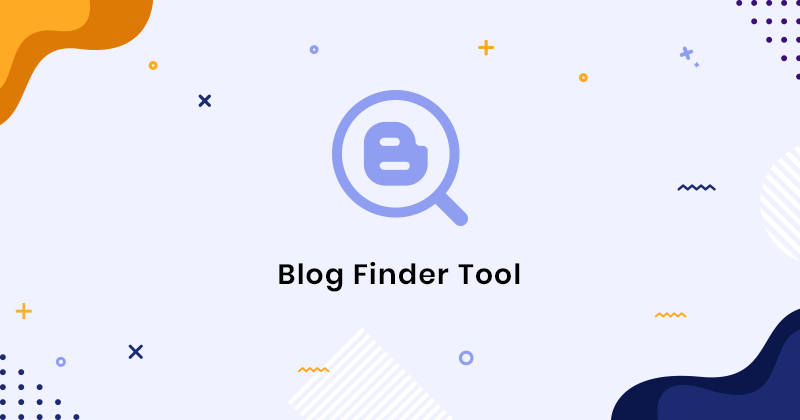 Have a specific topic in mind?
Let our Blog Finder tool look it up for you. Write the query in the "Enter Your Keyword" field, select the right options, and tap on the "Find Blog" button.
The internet has opened up so many avenues of getting information on virtually any topic that a person can think of. If you have heard the word 'Blog,' then you should know what it means. The literal meaning of a blog is that it's a personal journal to share your thoughts and ideas which are updated periodically.
The internet has opened up avenues for people to share their thoughts, adventures, incidents with the world. Writing a blog is like writing a post and uploading it on a website. Once placed their anyone who is interested can read it, and some blog sites allow people to comment on it.
If you want to get information on blogs related to a particular subject you will need a blog finder. The Internet has allowed thousands of people to set up and operated their blog sites. Bloggers can be loners or work in groups. A blogger may start a blog site on his or her favourite topic and allow people to post their comments on it. Other bloggers may get interested and ask to be allowed to write blogs on the same site. It's up to the blog site owner if he or she grants permission and forms a blogging group.
The topics discussed in blogs are mind-boggling. You just have to think of a subject, and there will be blogs written about it on the internet. But finding blogs on a particular topic might be difficult. The reason for this is that blogs are not the typical websites that you encounter. Blogs may contain posts or posts with images, just images with subtitles and videos with commentary. Blogs have grown over the years and become a rich source of information. At times blogs and social media have beaten news channels on reporting a news breaking incident.
However, some blog sites give you top-quality content to read while others are just not worth wasting time on. Remember, blogs are an open field, and no rules apply. Therefore there is no assurance that all blogs are coming out of the top drawer.
If you wonder who are the people who write blogs? You will be surprised to see that they are not a particular breed. They are people like you who want to voice their opinion or discuss their personal lives.
The internet has provided them with the platform to do that, and they don't have to be tech-savvy to set up blog sites.
Every human being has a voice and wants to be heard. The Internet provides a global platform for people to be heard.
There are dozens of blog-finding services available on the web. Some of them are dedicated to finding top-quality blogs related to your area of interest. As there are millions of blog sites, there are some tools that can help you find blogs of your interest.
These blog directories are:
Alltop: this is the oldest blog directory and is known for presenting top blogs to users based on the topic of interest.
Technorati: This is a very user-friendly blog directory that allows users to search based on keywords.
Blog Catalog: This is an aesthetically appealing site, but the search capabilities are lacking.
Guzzle.it: This site allows you to create a dashboard of topics of your interest. It will regularly update the dashboard with the latest blogs of your topic.
your version: This directory allows you to see tweets also on the subject of your choice. You can stop the tweets and only look at the contents.
Paper.li: It is a web newspaper and presents you blogs based on your Facebook and Twitter groups shared links.
PostPost: This is a Facebook-specific aggregator and delivers posts that you or your friends have liked.
Utopic: This site gives you a smattering of content from Twitter, YouTube, and Facebook and focuses on the most popular group of your network.
Best of the Web Blog Search: This is a straightforward, no-nonsense site that delivers a roaster of blogs on a wide variety of topics.
Google Blogs Search: As is expected from Google their blogs search site provides new blog posts on any topic that you find.
People interested in reading blogs can also learn how to find a blog by author, or how to find a blog to follow. Or you might be interested in finding the latest best personal blogs or funny blogs to read.
Your interest in posting comments on blogs may grow to create your blog post site, or you might be invited to join a blog group.
Creating a blog site does not involve too many technical skills and know-how. There are applications like WordPress, Blogger, Wix, Weebly, and Penzu. WordPress started as a free application to help bloggers create and run blog sites. But now it's being used to build other websites as well.
You are free to try all the applications, and some of them also provide free hosting services for a limited period. If your blogs start to get a good response, you can start paying for the hosting service.
Eventually, you might start getting ads on your blog site which would make it a profitable venture.
There are many blog-finding tools available on the internet. However, you should go over to superseoplus.com and try the blog finder tool. The tool is available in the 'Free SEO Tools.' Scroll down the icons till you find the icon and click on it.
It's based on Google queries, and you need to enter keywords, categories, and footprints. After selecting the category and footprint enter search. It will return the results on the Google platform. You can use the tool frequently based on the different options available to you get the results you want.
It's an easy-to-use and handy tool for people who like to read blogs or want to contribute to blog sites.
The Best FREE Blog Finder tool!
The internet has provided a platform for people to maintain a personal journal. You can express your thoughts, feelings, experiences, passion through blogs.
Blogs have given people an outlet to express themselves. Anyone can start a blog of their own, or they can contribute their blogs to someone else's blog site.
That is if the owner of the blog site is ready to allow others to contribute. WordPress was one of the first organizations to recognize this passion for people to write blogs.
They decided to encourage and help people to start their blog sites, and they still promote this. Although WordPress is being used to create other websites, it remains the world leader in helping people set up, run and manage their blog sites.
People want to express themselves, and previously the only audience that would listen to them would be their family and friends.
Newspapers allowed people to write letters to the editor, but it was the editor who would decide whether to publish the letter or ignore it. Blogging now allows people to express themselves freely on their blog sites.
The word blog has many derivatives.
A blog is an entry in a personal journal, the person who writes blogs is known as a blogger, and the activity of writing blogs is known as blogging.
Web servers should not be mistaken as comprising of just one powerful computer that is hosting websites. A proper web service provider will have some servers that do other tasks asides from hosting websites.
Each server in server has a specific role to perform in managing web traffic and protecting websites against malware, virus, and hacker attacks.
There are network servers, firewalls, and website servers. All the networks must be operational to provide the service expected from an internet service provider.
The network servers are designed and operate to manage the traffic to the web servers ; the firewall servers protect against illegal intrusions to the network.
It is the firewall servers that protect the web servers against malware, viruses and hacker attacks, and other illegal intrusion attempts.
Web hosting service providers do not depend on installing just one antivirus on their setups. They install several protection software applications and hardware.
The reason for taking more than just one measure to protect their clients' websites is that every day thousands of intrusion attempts are made, and a single antivirus will not be sufficient to counter the attacks coming from various sources.
An email service provider will need to protect emails from attacks that target email servers. An internet service provider will have protection against malware, viruses, hackers, and illegal intruders.
Several layers of protection are required to protect websites. Should a website be hit by a virus or malware, the website owner will take legal action against the web hosting service provider, and that can end up ruining the web hosting service provider's reputation and financial standing.
Starting using the Best Free Blog Finder Tool